Education Equity Fund
Overcoming our nation's deep roots in racism and inequality will require undoing layers of systems and structures that were built to keep people of color from access to opportunity.  But in order to improve educational outcomes for all, we must challenge the status quo and deeply consider what isn't working, why and what can be done.
We believe in the wisdom of students and communities to shape their futures, and we recognize that there's no one right answer to the education challenges communities face.  That's why we plan to do more to encourage the ingenuity that lives within communities and to support community-designed and community-driven educational change across Washington.  These efforts will most likely look different in different communities.  Some ideas may challenge existing notions of what schools look like, and where and how learning happens.  But they will all share a common goal – that every student belongs, every student matters, and every student sees a future filled with possibility.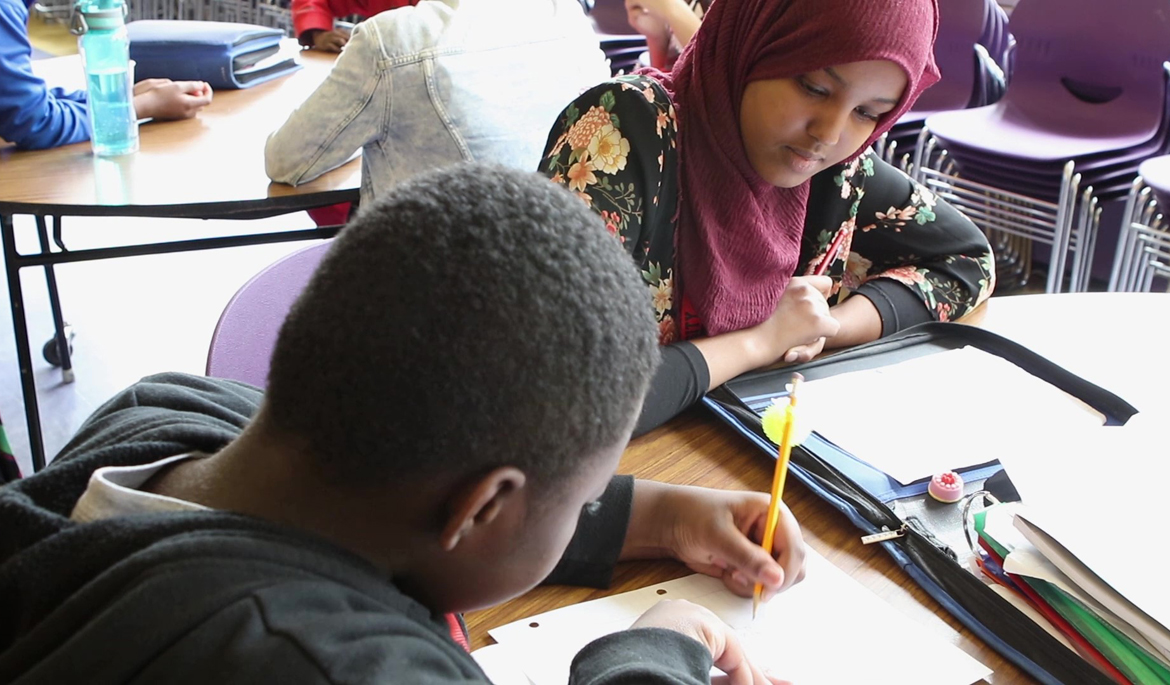 Ingenuity lives within communities. That's why we plan to support community-designed and community-driven educational change across Washington.
Dismantling Barriers to Equity in Education
College Spark is inviting education institutions and nonprofit organizations in Washington state to submit a Letter-of-Interest (LOI) for grant funding to support work designed to dismantle barriers to equity in education for students in high school and at community and technical colleges. Project funding is available for work that has one or more of the following areas of focus: 
Alternatives to Exclusionary Discipline in High School

: Elimination or substantial reduction in the use of exclusionary discipline for all students and/or elimination or substantial reduction of the current racial disparity in rates of exclusionary discipline. Exclusionary discipline refers to expulsion, in-school suspension, and out-of-school suspension.

 

Placement at Community and Technical Colleges

: Changes to current placement policy and practice designed to eliminate the opportunity gap in the rate of students who are placed directly into credit-bearing, college-level English and math classes. We want students to have the opportunity to earn credit for the correct math course for their chose program of study, whether or not that course is a transferable math course.

 

Community Centered Decision-Making

: Efforts to change policy and practice in schools, districts, and colleges that facilitate a full, equal, and equitable partnership among families, educators, and community partners to promote student learning and flourishing. A wide range of projects can advance this goal, including but not limited to participatory research, co-design processes, student-led equity audits of policy, and organizing student and parent/community advocacy efforts. 

 

Culturally Responsive Curriculum and Pedagogy

: Developing, refining, and/or implementing anti-racist and/or multicultural curriculum into core subjects, developing and implementing stand-alone ethnic studies courses, or removing/revising curriculum that contributes to racist outcomes for students. Any professional development efforts to promote culturally responsive pedagogy must be sustained over time and tied to educator practice. 

 

Anti-Racist Leadership Development

: Sustained efforts to build the knowledge and skills necessary for teachers, principals, district leadership, and college administrators to implement practical applications of anti-racist theory that identify and dismantle racism within their educational institutions.  

 
Application Process and Timeline
The application process begins by submitting a pre-application Letter-of-Interest (LOI). College Spark uses an on-line application system for both the LOI and the Full Grant Proposal.  The LOI is available at tinyurl.com/collegespark.  
LOIs are accepted on a rolling basis. There are no set deadlines for submission. The Board of Trustees meets and considers grant requests quarterly.

 

All LOIs will be considered and applicants will be notified within 30 days of submission as to whether a full grant proposal is invited.

 

We request that full grant proposals are submitted within 30 days of invitation to apply, unless an extension is requested by the applicant and approved by College Spark. 

 

At the time of submission, grant applicants will be notified of the anticipated date of approval or denial, which will typically be within 12 weeks.

 

Funds are disbursed after both the applicant and College Spark finalize the project work plans and a signed grant agreement is returned to College Spark. This process typically takes about one month after grant approval.

 

Applicants are strongly encouraged to view a recorded informational webinar prior to submitting a LOI.  This webinar includes an explanation of our giving guidelines, selection criteria, and how to provide the most helpful responses to each LOI question.

 
Eligibility for Funding Consideration
To be eligible to apply for College Spark funding, applicant organizations must have a staffed physical presence in Washington and be: 
Organized and operated for purposes described in IRC Section 501(c)(3), but excluding Type III Supporting Organizations; OR

 

A university, college, school or other educational organization described in IRC Section 170(c)(1); OR

 

A Public agency, unit of government, tribal government, or tribal program under IRC Section 7871.

 
Have a Project Idea?  We'd Love to Hear From You.
If you have questions, need technical assistance to complete your application, or would like to discuss project ideas, we encourage you to contact Rachel Clements, Program Officer, by email rachel@collegespark.org to schedule a call or meeting at any time throughout the grant application process. We appreciate the opportunity to talk to applicants as they develop their project ideas, and it is never too early in the process to have a conversation about a potential partnership with College Spark. 
2022 Grantees
South King County Discipline Coalition (Puget Sound) — $180,000
The South King County Discipline Coalition provides trainings and planning sessions for community members to learn about their rights in the education system and to collectively develop strategies for advocacy.  Experts in education advocacy, community organizing, and antiracist systems change provide training on strategy and tactics for parents.  Parent Coalition members choose both the focus and topics of trainings and collectively develop strategies for how to engage with and influence their district leadership and school boards.  The Coalition engages in district-level efforts to demand a shift away from punitive approaches to student behavior and towards restorative approaches designed to promote healthy, accountable relationships between schools, families, and the broader community.
Alliance for a Just Society  — $180,000
Communities for Our Colleges is a campaign launched by Alliance for Justice in 2020 to support on-campus student organizing and advocacy in Washington's two-year colleges.  Grant support will help build campus organizing activities at Highline College, Shoreline College, and Yakima Valley College aimed at engaging students in the new state racial equity strategic planning process to ensure these plans include and reflect student priorities.  An additional goal is to build and refine a community-centered decision-making model for future organizing at other campuses.
Puget Sound Educational Service District — $180,000
The Puget Sound Educational Service District will develop, launch, refine, and expand an Anti-Racist Professional Growth and Leadership Institute.  Its purpose is to strengthen support for educators of color and to make schools more hospitable environments capable of retaining them.  Training will be developed and delivered by the 160 participants in the PSESD Educators of Color Leadership Community alongside their supervisors and other staff members wo are working to create climates that support educators of color.  Grant funding will also support a leadership and mentoring strand for teachers of color.  Once the Leadership Institute is developed and piloted, PSESD aims to scale the training across its service region of King and Pierce counties.
Seattle Central College — $180,000
Seattle Central College plans to revise its Basic and Transitional Studies (BTS) curriculum to make it more inclusive and culturally responsive.  BTS includes Adult Basic Education, English as a Second Language, high school completion, and GED.  About 85% of BTS students at SCC are BIPOC, and only about 10% transition to college-level courses after a year.  To better meet the needs of these students, SCC will assemble a team of faculty and students of color to guide a process of division-wide professional development and revision of curriculum to advance anti-racist teaching.  Planned topics for professional development include anti-racist teaching practices, identifying anti-racist materials, defining anti-racist course outcomes, and translating knowledge to practice.
Shoreline Public Schools — $150,000
Shoreline Public Schools will use grant funding to support the next steps in its racial equity and anti-racism professional learning and skill building for teachers and staff.  Activities to build a more anti-racist culture in its schools include: 1) establishing, staffing, and training support for Students Organized Against Racism (SOAR) groups at two comprehensive high schools; 2) professional development for staff and families in family engagement, including deepening work with the University of Washington Family Leadership Design Collaborative; 3) building more reciprocal relationships with the Snoqualmie and Tulalip tribes, including district contributions towards educational opportunities and tribal needs; and 4) establishing a Cultural Broker Program for BIPOC, immigrant, and English non-dominant families to work with other families like them around navigating the school system while also supporting relationships between school and families that establish trust and relationships through shared goals for students.